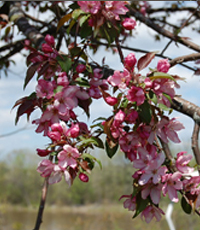 Flowering tree on the grounds
the Centre de l'Amour
L'Oasis de l'Étoile Camping
220 Route 21 (Rte 21 at Groulx St.),
Plantagenet ON
Canada, K0B 1L0
The Centre de l'Amour operates a camping under the name l'Oasis de l'Étoile, located a few steps from the Centre.
We are open from May 15 to October 15. We have 50 lots available for the season or by the month, with swimming pool, showers and laundry room.
Very peaceful and reasonably price. For information or reservations, please call the Centre de l'Amour at 613-673-4766.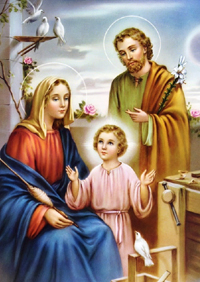 Hail, holy Queen
Hail, holy Queen,
Mother of Mercy,
Hail our life, our sweetness and our hope. To thee do we cry,
Poor banished children of Eve;
To thee do we send forth our sighs, Mourning and weeping in this vale of tears. Turn then, most gracious advocate, Thine eyes of mercy toward us; And after this our exile, Show unto us the blessed fruit of thy womb, Jesus.
O clement, O loving,
O sweet Virgin Mary.
Amen.